Post by VeeVee on Aug 16, 2011 9:00:10 GMT -5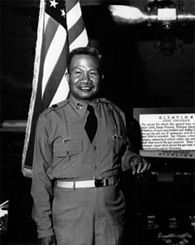 We never started a thread on Sgt. Jose Calugas, MOH. I'm taking this opportunity to start one. If you google his Medal of Honor citation, it reads:
The action for which the award was made took place near Culis, Bataan Province, Philippine Islands, on 16 January 1942. A battery gun position was bombed and shelled by the enemy until 1 gun was put out of commission and all the cannoneers were killed or wounded. Sgt. Calugas, a mess sergeant of another battery, voluntarily and without orders ran 1,000 yards across the shell-swept area to the gun position. There he organized a volunteer squad which placed the gun back in commission and fired effectively against the enemy, although the position remained under constant and heavy Japanese artillery fire
However I'm posting this letter from retired Col. Melvin Holst who served with then Captain Jose Calugas in the 1950's and was a lieutenant at that time. He emailed this to Joe Calugas, Jr. since Jose Calugas, Sr. never told anyone in the family what really happened. These are in Col. Holst's words and recollections. He may have misunderstood the time frame and described the Layac battle as being the last days of Bataan, otherwise the details as told to him by Jose Calugas are enlightening.
On the day of your Dad's heroism, the Japanese were making a "final assault" upon the Defensive Positions on Bataan. And, the Philippine Defenders had run out of food, and ammo, etc. and were crying and in the initial stages of "Giving Up" So as Mess Sergeant of that Artillery Battery, his unit had positioned itself on the reverse side of a Hill Mass that was between your Dad's kitchen area and the guns. And on that morning, the Japanese were making their "final assault" upon the entire defensive line of the Bataan Defense. Airplanes were dive bombing and strafing the guns and riflemen in their foxholes everywhere. And the noises of that assault were deafening. Men were being killed and crying and screaming and seeking safety amidst the Japanese assaults. Some had even crawled up-hill some 1,000 or 1,500 meters thru the brush and back over that hill mass into where your Dad's Kitchen area was. And amidst those crying and escaping soldiers were several Lieutenants of your Dad's unit who thru all the noise of battle said that their guns had been bombed and broken and were not "fireable" any more. So they had to "give up" and escape. And amidst all those loud noises of battle, your Dad said that he accosted the Lieutenants and asked if they had taken the "FIRING LOCKS" out of their guns so that the Japanese could NOT use those guns against them when they were captured. To this they said NO. And he, your Dad, then ASKED for their PERMISSION to see if he could go up over that hill and back some 1,500 meters into where the broken guns were and remove those "Firing Locks" himself. To this, the Senior Lieutenants said, YES. And he, that Lieutenant, wanted to go along. And several enlisted men also volunteered;. Thus within only a few minutes time, a rescue team was formed. And your Dad "Took off" along some trails, thru the brush and up over the protective Hill Mass toward the guns with the Lieutenant and several Enlisted men, crawling along, beside. So after breaking up over that Hill Mass and into a Bomb Crater amidst all the strafing, etc. your Dad said he noted that the Lieutenant and those enlisted men were no longer with him. Thus, your Dad was alone. He then crawled from Bomb crater to Bomb crater amidst all the strafing and bombing that was taking place and finally reached the guns. When there, he noted that no-Philippine soldiers present and that the Japanese soldiers were blowing bugles, etc. some 500 meters to his front. And getting ready to assault. Your Dad thus had to act, fast. And as he looked around to "upright" the first gun that had been upended. he noted a US Army Major, nearby who pitched right in to help. So amidst all the ongoing noises of battle, and the bugling, etc., your Dad and that Major, finally got that gun uprighted and made serviceable. And since in earlier years, your Dad had learned how to operate all aspects of the guns, he could readily "uncrate" the Ammo, crank the elevating and traversing hand wheels to accurately "aim" the gun, set the fuze, load the ammo and fire.

And almost as quick as that US Army Major had helped to upright the gun, make it serviceable and fire a few rounds, that Major somehow disappeared. And your Dad was left alone on that gun from mid-day of Day 1 to mid-day of Day 2. So, amidst all the noises of battle and strafing and Japanese Bugling, etc., your Dad set each round's fuze length to burst along the line of the enemy attack such that he could see the Japanese wounded and dead piling up on the battlefield to his front And a "Wooden Bridge" of some sort lay across the creek that was to his front and he could especially see them "piling up" there, too. (And Your Dad happily "snickered" and laughed as he told me that.) So to further confuse the enemy in your Dad's mind, he set fuzes to burst at different points along their trajectories across the entire battlefield to his front. Thus after an hour or so of doing that, the Japanese attack upon his gun and the full defensive line subsided But he, your Dad, all alone, kept on uncrating the ammo and setting the fuzes and loading and "laying" the gun all thru the afternoon and into the night. And in your Dad's attempt to confuse the enemy even further, he made an adjacent gun serviceable which had been bombed and upended and severely damaged. And he did ALL this between the "luls" of his firing. And he alternately fired that gun on and off, but ALONE with fuzes set to burst at different distances across the battlefield thru the night.

Then when the US and Philippine forces learned of those 2 guns firing alternately thru the night and the Japanese attack upon their positions had been stopped; their friendly "spotter planes" early next morning, reported the 2 guns still firing. The Philippine forces quickly formed a "rescue squad" of some sort to see who was firing their guns. When there, later that morning, they saw your Dad, alone, doing all of that. And, the rescue force was OVERWHELMED. And when "relief forces" took over the defensive lines and those 2 guns later that day; your Dad said that all he had on was a "Loin Cloth" because the remainder of his clothing had been TORN from him as he, had crawled from his kitchen to the guns, Bomb Crater by Bomb crater earlier the previous day. And he, Your DAD never knew that he was Cited by McArthur and Congress for his MOST HEROIC acts until ____________________. And he, Your DAD, never really discussed his acts of HEROISM with your Mom, ever, because from those HEROIC acts and the Bataan Death March, (from which he ESCAPED,) your Dad become a Guerilla where he also had performed numerous HEROIC acts till the end of the war. In short, I, Mel Holst, consider Your DAD to have been "One HELLUVA man, And I consider it to be AN EXTREMELY HIGH HONOR to have been considered one of his friends. Most sincerely, Mel
---------------
That "Major" could have been Major Vepsala. He this book, Waiting for the Enemy (
pinoyhistory.proboards.com/index.cgi?board=books&action=display&thread=1747)
Major Vepsala had come into the soldiers' shelters dug in on the side of a high river bank. He asked for a volunteer to accompany him to check on the status of Battery A at the height of the bombardment. He must have just come back from Battery B whose guns Sgt. Calugas put back into action and wanted to check on the other battery.