Post by VeeVee on Feb 24, 2009 4:16:22 GMT -5
Posting for Perry...
------------
Friends;
TAGCOM will be conducting a historical uniform contest on Mar 1 Sunday at Robinson Manila. This is also support in promoting education about, history, patriotism & heroism but with FUN & excitement/ You may wear either period dresses or military uniforms of soldiers heroes, ethnic tribes, historical icons, etc.... of all countries in the world including the Philippines of course.
Shown below are the guidelines the organizer had sent me.
I encourage you to join & invite also your friends, schools / organizations, students, professionals, enthusiast, etc... to join the said event.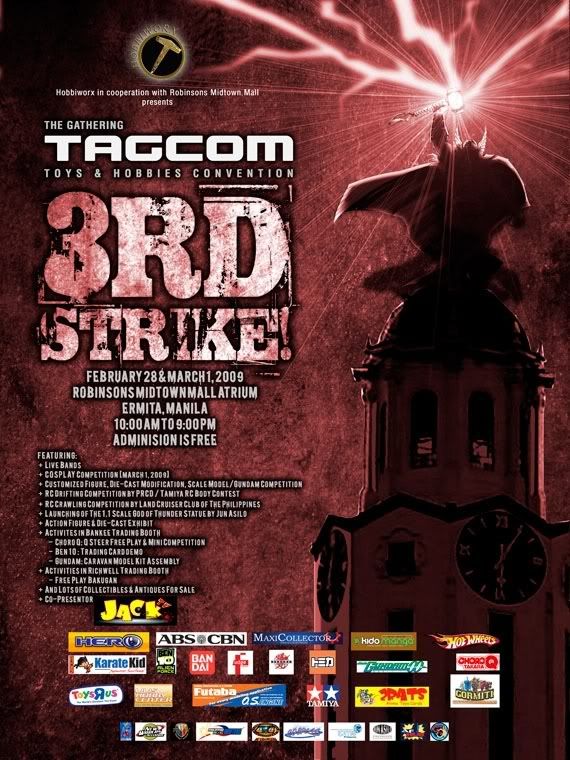 Cosplay Competition (Historical Category & Fiction Category) March 1, 2009
(Sunday)
 (Note, we are joining the Historical Category)
Here are the guidelines for cosplay competition:
1. Registration begins at 10:00am and closes at 1:00pm.
2. The participants must be in historical uniform upon registration. To
avoid inconvenience, it is encouraged that participants arrive at the
venue in uniform / costume.
3. The participants must have the following upon registration:
Registration forms. The participant should fill-out three (3) copies of
the registration form provided at the event itself. It will be
submitted upon registration together with the full body picture of the
character.
5. The Cosplay Catwalk will be from 3pm-6pm. Individual cosplayers are
given a maximum of two (2) minutes stage time. Failure to comply with the
time limit will result to the disqualification of the cosplayer or the
group from the competition.
6. Cosplayers will be judged during the Cosplay Catwalk, from which the
Best Male, Best Female, Best Child, and Best Group Cosplay will be chosen.
7. The winner of the Cosplay competition will be decided by the judges in
terms of these criteria:
Characterization – the cosplayer's resemblance to the reference
character in terms of personality and behaviour.
Costume and Craftsmanship – resemblance of the costume to that of the reference character. Quality of the costume and visual appeal.
Overall Appeal- innovativeness, creativity, and audience appeal. This
including the catwalk presentation for individual cosplayers.
Criteria Breakdown
Characterization=35%
Uniform =35%
Overall Appeal=30%