Post by legionnaire on Jun 18, 2008 17:48:39 GMT -5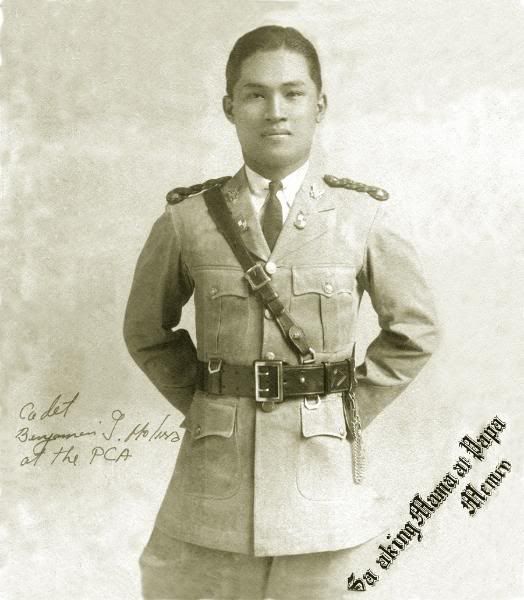 Cadet Benjamin Molina
was born in Marikina, Rizal, on 4 February 1901.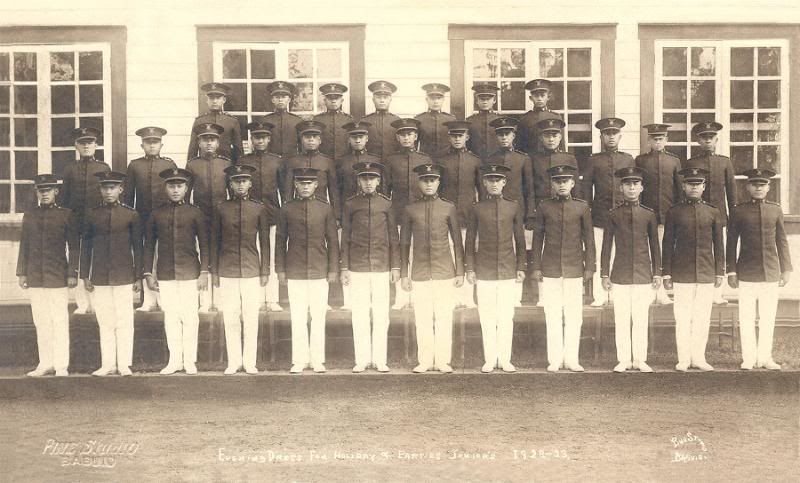 middle row, third from right
"Evening dress for Holidays & parting Juniors, Class of 31"
On 10 September 1928 he entered the
Philippine Constabulary Academy
(PMA)
from which he graduated on 29 July 1931.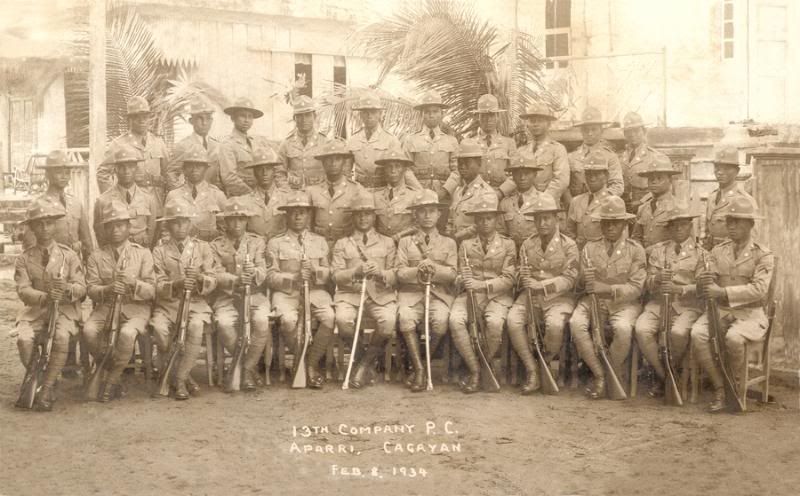 middle right, Officer with sword
He obtained his commission as third Lieutenant in the Philippine Constabulary
and was assigned junior officer of the 112th PC Company in Jolo.
On 12 November 1934, he was reassigned
J. O. of Aparri PC Company, Cagayan
and later transferred as commanding officer of the Isabela Constabulary.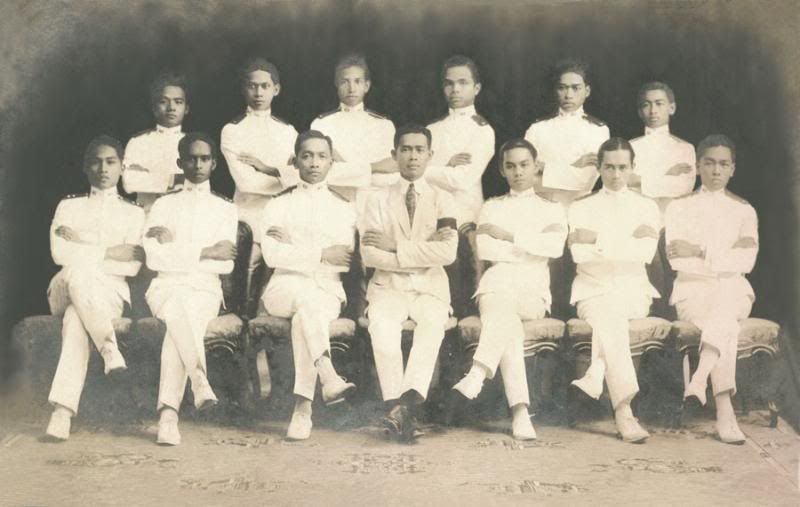 Officer Molina seated left
On 11 October 1934, he attended the first instructional cadre school. After completing his studies, he took command of the 1st Isabela Cadre and later the Nueva Vizcaya cadre.
On June 1936, he was designated commanding officer of the Ordnance Detachment of the Philippine Army headquarters. Shortly thereafter, he was transferred to the ordnance service first as procurement officer and then as ordnance inspector.
When World War II broke out,
Colonel Molina CO of the 202nd MM Company, II Corp
, courageously waded through enemy-bombarded area in order to put into action three 75 mm guns of the 41st Field Artillery which had been previously damaged. Then he led his men over roads, which were shelled heavily, in order to direct immediate repair of other damage weapons. Despite intense hostile fire, aerial assault and heavily mounting casualties, he proceeded to repair a gun muzzle. Through his marked courage and inspiring leadership, General Molina contributed in no small degree in the heroic defense of Bataan.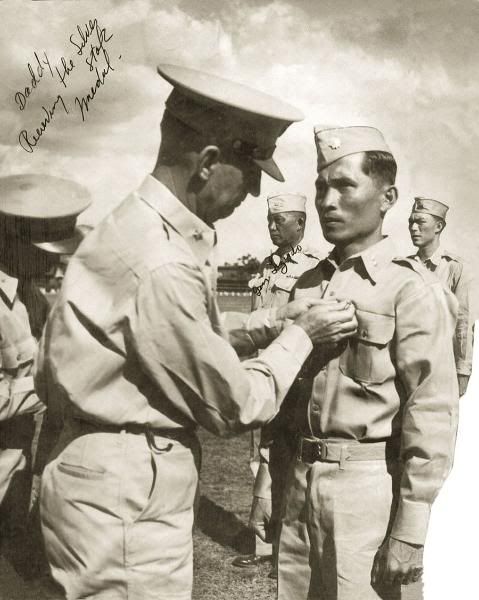 For this action, he was awarded the
Gold Cross Medal
. He was also awarded the
Silver Star
for "Gallantry in action" by the Commanding General of the 41st Division, Philippine Army,
by Command of General MacArthur.
The citation partly reads:
"Through his marked courage and inspiring leadership,
Colonel Molina contributed in heroic degree to the brave stand of the defending forces in the Philippines."
General Molina was in the Death March to Capas, but he escaped to safety from the lines.
During the Japanese occupation he did not serve the puppet government in any way.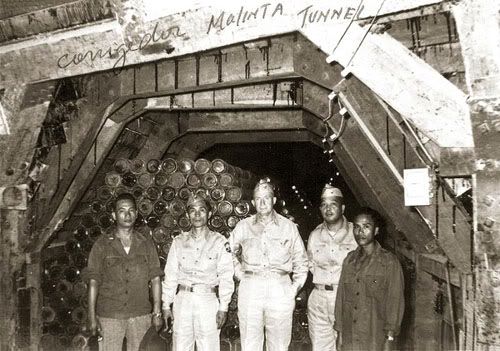 Three months after returning to military control, on 12 April 1945, he was sent as a student officer of the Ordnance Service School, Aberdeen Proving Grounds, Maryland, U.S.A. He got excellent ratings while taking ordnance general course.
Upon his return to the Philippines, he successively held the positions of executive officer, acting chief, and chief of the ordnance service of the Philippine Army. After more than four years as chief of the ordnance service, he was reassigned on 3 January 1951 to the Philippine Constabulary headquarters at Camp Crame.
Two weeks thereafter, General Molina assumed office as G-4 of the Philippine Army Training Command. He concurrently held the position of C.O. Station Complement IPATC. After one year he was made commanding officer of the headquarters service group in Camp Murphy. He was con-currently designated headquarters commandant and camp commander on 2 March 1953. During his tour of duty he transformed Camp Murphy into the face-lifted camp that it is today. The P88,000.00 - Catholic chapel, which now stands near the main gateway of the Camp, was constructed thru his drive and capacity to translate charity into indestructible concrete. The Retired Military personnel Hall, a fitting memorial to the selflessness of officers and men who gave their best in the military service, was also his brainchild.
On 20 July 1957 General Molina was designated acting area and zone commander of the IV M and IV PC Zone. On 8 April 1958, his designation as commanding officer was made permanent, position he held until June, when he earned his star and was made commanding general of the I Military Area and I PC Zone.
General Molina is married to the former
Miss Cecilia Quilinao
with whom he has seven children.
BRIG. GEN. BENJAMIN MOLINA
Armed Forces of the Philippines
Commanding General, I MA and I PC Zone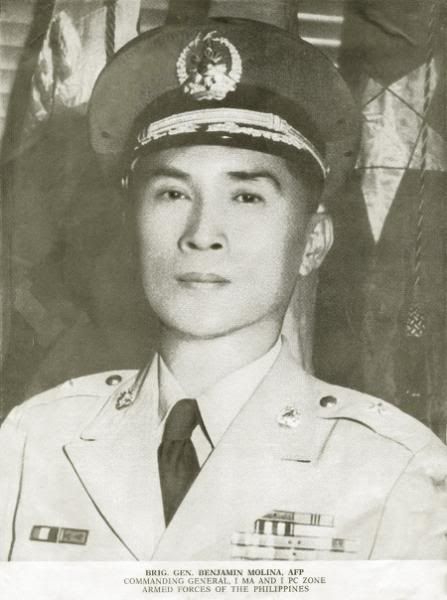 The only brother with six sisters, he financed my Mother's medical college when he got his commission.
The original photographs were so badly damage and faded that is was a painstaking, meticulous photo restoration and hours I put in. I was able restored and documented 90% of his medals, ribbons, DI & rank insignias and Div. Patches he commanded.
I remember him giving me his one star Helmet, WWII ammo belt and pistol belt which is the only mementoe I still have. This is my long overdue small tribute to my war veteran uncle.
Thank you for viewing.
Philip