Post by mikepeters on Sept 14, 2007 0:13:24 GMT -5
A fellow Collector found this set at (I believe) an Estate sale about a year ago ..he was lucky.
Anyway ...Jason made a trip to NY yesterday and I was finally able to meet him "off" the Forums. He gave me the set .
I believe the "youngsters" call that .."Old School" ..the way our Hobby use to be ..a Code among Collectors that apparently is still alive and well
Thought I'd share it with you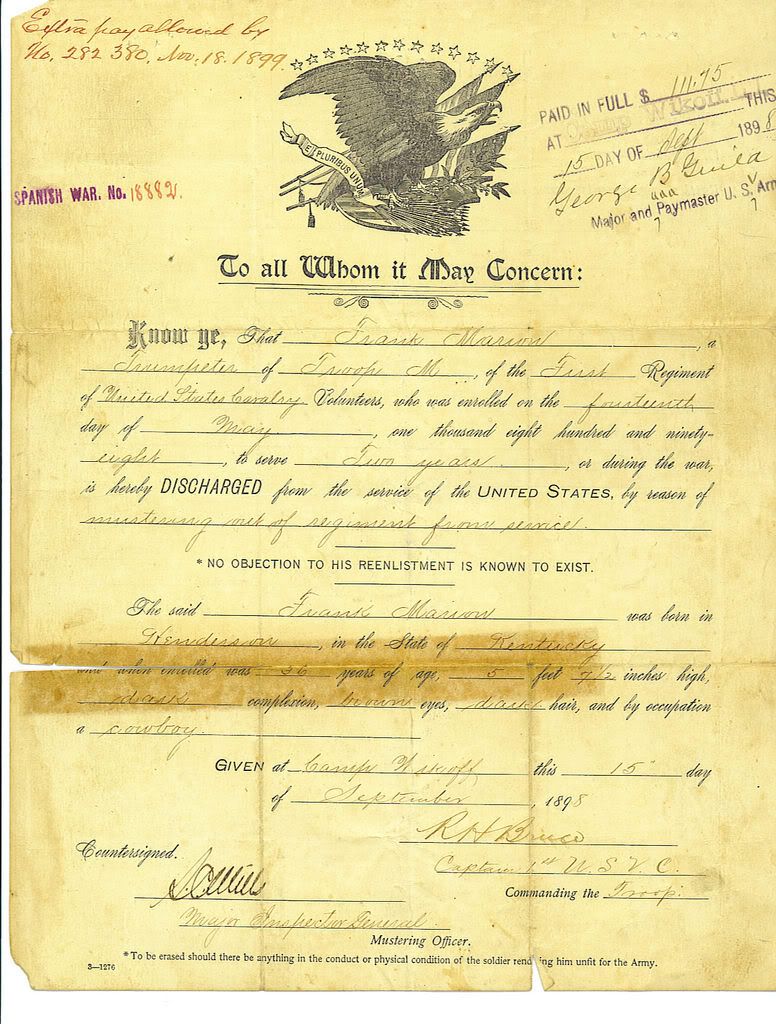 The 1st United States Volunteer Cavalry, better known as the "Rough Riders" is one of the most well-documented and famous volunteer fighting forces in American history.
The "Rough Riders" was formed from men from the western frontier of the United States, men who were used to life in the saddle and to the use of firearms - and from some eastern high-class young men who were athletic and also skilled in horsemanship and the use of guns...but for entirely different reasons. In addition there were men from almost everywhere else! The unit included miners, cowboys preachers, tradesmen, writers, professors, athletes, and clergymen. Remarkably, there were men from each of the forty-five states then in existence, the four territories and from fourteen countries! There were even sixty Native Americans on the roster. The unique combination reflected the interesting contrasts in one of the men who was one of the driving forces behind the unit – Theodore Roosevelt, the man who was initially the regiment's lieutenant colonel and later its colonel. >>
When word went out that Roosevelt and Colonel Leonard Wood, were raising a regiment, volunteers from all over appeared. Twenty-three hundred men volunteered in the first twenty-four hours, of which only a small percentage could be accepted. Even the future creator of Tarzan, Edgar Rice Burroughs tried to enlist.>>
The unit was mustered into service between May 1 and May 21, 1898 in various locations in Texas, New Mexico and what was then termed "Indian Territory" (Arizona and Oklahoma ). At the time of muster in, the unit consisted of 47 officers and 994 enlisted men. The uniqueness of the regiment, the bombastic energy of Roosevelt(until recently the assistant secretary of the navy) and Roosevelt's gift for public relations and self-promotion brought the unit much publicity even before its worth was proven in battle. >>
From San Antonio, Texas, the unit was ordered, on May 27, to Port Tampa, Florida, for the invasion of Cuba. At Port Tampa, things were in great disarray, and the Vth Corps, of which the Rough Riders were now a part, was highly disorganized. In the confusion of embarking on the transports, several regiments were assigned to the same transport, the YUCATAN. Roosevelt got his men aboard, realizing that once aboard, would probably not be forced to disembark. The Rough Riders stayed aboard, to the chagrin of the other regiments. Sadly for some, because of a lack of room in the army transport, only eight of the regiment's twelve troops (troops A, B, D, E, F, G, K, and L) went to Cuba, with the other four (troops C, H, I, and M) remaining behind in Florida. Also, the regiment had to leave its horses behind in Florida, and essentially served in Cuba as an infantry regiment. >>
In Cuba, the regiment fought at Las Guasimas, and then at the famous San Juanlace> and Kettle Hills. The regiment proved its worth and truly lived up to all of the publicity it had already received. For his efforts to lead in the assault at Kettle and San Juan hills, Roosevelt would eventually be awarded the Congressional Medal of Honor (an honor he truly earned, but which, for political reasons, he would not receive until over eighty years after his death). >>
After the fighting ended and the summer wore on, disease among the troops began to rise. Eventually the War Department was embarrassed into bringing the battle-worn troops back home, to be replaced by other, fresh troops. The Rough Riders arrived back in the U.S. on August 15, three days after an armistice had been declared, and went into camp at Montauk Point, Long Island (Camp Wikoff), New York . >>
The unit was mustered out of service on September 15, 1898 at Camp Wikoff. At the time of muster out, the unit consisted of 52 officers, and 1,185 enlisted men. During its term of service, the unit lost two officers and 21 enlisted men killed in action; and three more men died of wounds received in battle. Nineteen more men died of disease, and twelve men deserted. Additionally, seven officers and 97 enlisted men were wounded. The Rough Riders had the highest casualty rate of all of the regiments involved in the actions in Cuba. >>
For only being in existence for 133 days, the unit won its place in history, and has since passed into legend. >>
> >
www.spanamwar.com/index.htm
>>