Post by VeeVee on Aug 25, 2015 9:30:51 GMT -5
Posting for Edna Binkowski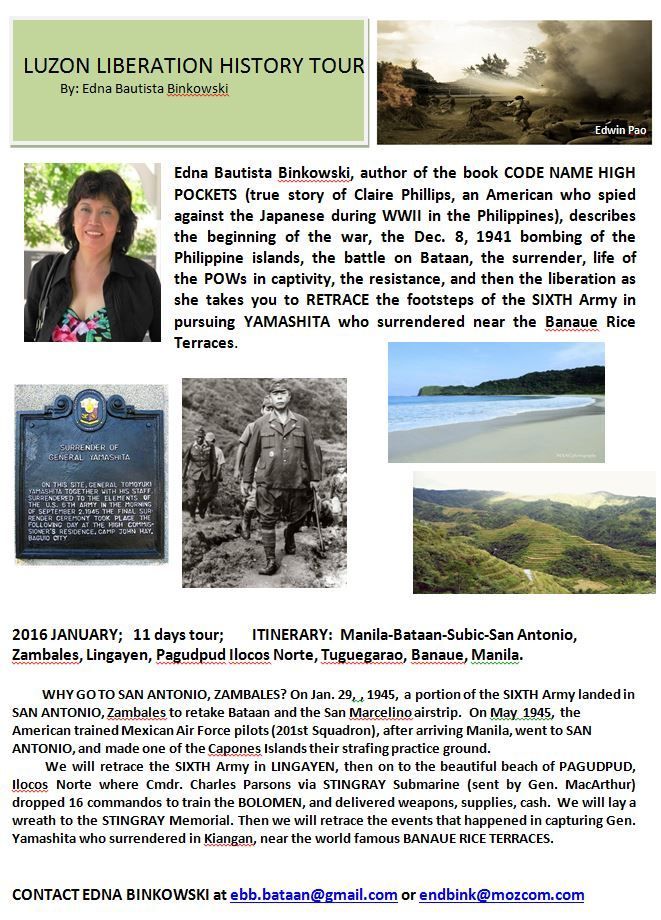 ITINERARY: LUZON LIBERATION HISTORY TOUR JAN. 24 TO FEB. 2, 2016 10 DAYS- 9 NIGHTS
Jan. 24, Sun. Arrive Manila International Airport. Transfer to Bayview Park Hotel, Roxas Blvd.
Jan. 25, Mon. Breakfast at 7:00am. Check out. Depart Manila for Bataan. Stop in Clark, visit the museum and Fort Stotsenburg. Edna describes the Dec. 8, 1941 bombing of Davao, Baguio, Tuguegarao, Clark and Iba, Zambales and the movement of the 20th PURSUIT Group. We will stay at a Heritage Home in Las Casas Filipinas de Acuzar, this is a 30 hectare property in Bagac, a memory of the Spanish past, and a pride of Bataan. We will have dinner of Spanish cuisine. To view the place, browse
www.lascasasfilipinas.com
.
Jan. 26, Tue. After breakfast, we will take a walking tour of the Las Casas, check out, and visit The Zero Kilometer in Bagac, the Mt. Samat Shrine and Museum, go for a brief city tour of Balanga City, and visit the Gen. King Surrender Party statues. We will proceed to Subic to visit the Hell Ship Memorial and stay for the night.
Jan. 27, Wed. Early morning, we will head for Lingayen. On the way, we will pass by San Antonio where the liberating forces (SIXTH CORPS) had landed, that liberated Bataan. We will also stop at the airport in Iba, Zambales, that became the base of Third Pursuit Squadron. We will go to Lingayen Beach and see the exhibits on the park about the landing of the SIXTH ARMY. We will stay in BALI HAI Beach Resort in Bauang, La union, for the night.
Jan. 28, Thu. We will depart for Pagudpud, Ilocos norte. This is a very long route, but the beauty of the beach will pay off. On the way, we will have lunch in VIGAN for a brief tour.
Jan. 29, Fri. After breakfast, we will visit the STINGRAY MEMORIAL built in honor of the liberating forces headed by Cmdr. Charles "Chick" Parsons who delivered 16 commandos from New
Guinea who armed and trained the guerillas. We will proceed to Tuguegarao, for overnight.
Jan. 30, Sat. We will depart for Kiangan, Mt. Province, We will reflect on the battle at Valle Verde trail and trace where Yamanutsa surrendered. We will stay in Banaue Hotel. We surely will enjoy the tribal dance of the ifugaos.
Jan. 31, Sun. After breakfast, we will stroll around to view the amazing BANAUE RICE TERRACES, an eighth wonder of the world. We will depart for Manila by noontime. Again, this is a long drive. We will return to Bayview Park Hotel in Roxas Blvd.
Feb. 1, Mon. Manila City Tour: American Cemetery, Luneta Park, Intramuros, Fort Santiago. FAREWELL Lunch at MANILA HOTEL. Edna and other tour participants will go back to Bataan.
Feb. 2, Tue. Take your onward flight. OPTIONAL: Corregidor Tour or more nights in Bayview Hotel.
COST: SINGLE OCCUPANCY $1,275 PER PERSON TWO PERSONS IN A ROOM $995 PER PERSON.
INCLUDES AIRPORT TRANSFER TO HOTEL, ACCOMODATIONS, DAILY HOTEL BREAKFASTS, TRANSPORTATION, ENTRANCE FEES, 2 DINNERS, 2 LUNCHES, EDNA'S EXPENSES, ACCOMODATIONS, MEALS, AND PROFESSIONAL FEE. NOT INCLUDED IS YOUR TAXI FROM HOTEL TO AIRPORT.
ABOVE COSTING IS BASED ON MINIMUM 6 PERSONS, MAXIMUM 7.