Post by labrador on Nov 6, 2011 23:11:28 GMT -5
Instead of heading out to the airsoft fields saturday, the Dead Soldiers Society and BNK made their way to Mall of Asia to help celebrate the launch of the Milsim Elite Webzine. Decked out in our finest period uniforms we made our way through Manila Traffic and parked at the huge lot behind MOA (next to Viking buffet and Hooters)...As usual, the BNK and WW2 guys made it a lot earlier than the moderns but there was a lot of eye candy - booths from the Philippine Marines, NAVSOG and others showed off the latest hardware of each branch of service. On exhibit too were a V150S and a Simba as well as some personnel carriers. We established ourselves at the CRSAFP tent and spent the next 30 minutes getting our equipment on. (that bloody M31 LBE system really is a b@tch to put on.)
In all my excitement, i forgot to bring my camera. many thanks to blackdragon for saving the day.
We were surprised when at 11AM we were told to assemble at the personnel carrier displays for the motorcade...We became PANZERGRENADIERS!!!! I secured a plum spot at the commanders cupola and the assembled press had a field day of taking our pictures. They even had hughdotoh and 3MS man the driver and radio operator seats so they could have an all german crew.
Driving around was fun. specially when people noticed there was something different about what the vehicle commander was wearing. They'd stare up at me, and i'd stare right back at them. After a short drive around we disembarked to do a quick parade through the mall grounds. It felt like a disneyland main street parade. I wanted to accost passers by and ask them for their papers....
after debarking from the spahpanzer. (that's my ride in the background)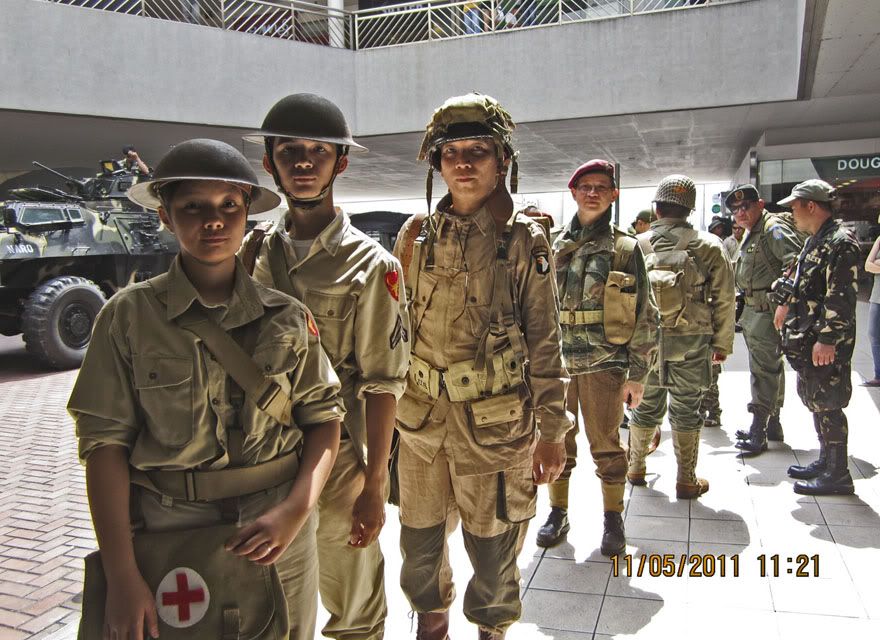 dr.evil trying to look charming for the MOP's (members of the public)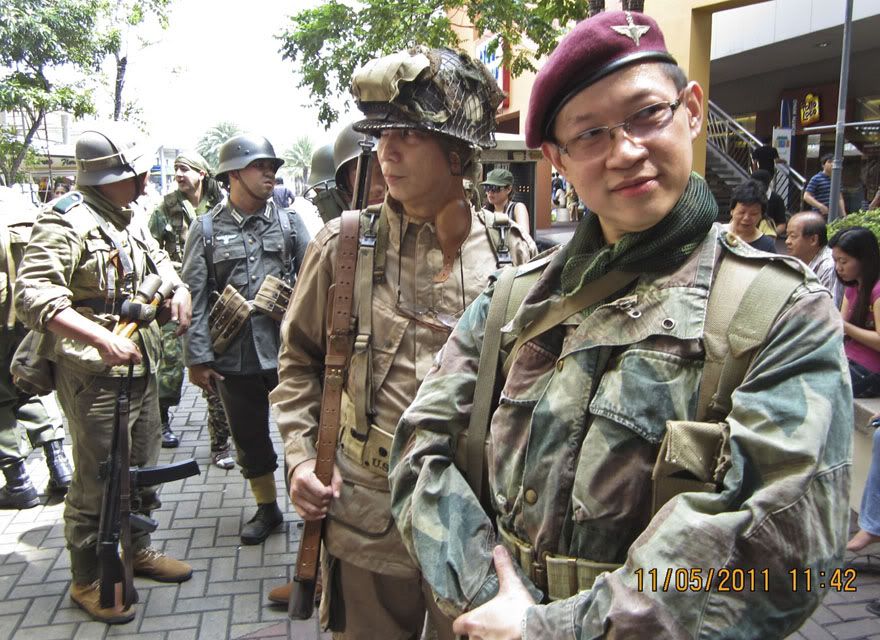 Mall security was at work again looking for concealed weapons:
Dax got some temporary employment ("straggler wanted" sign is behind him)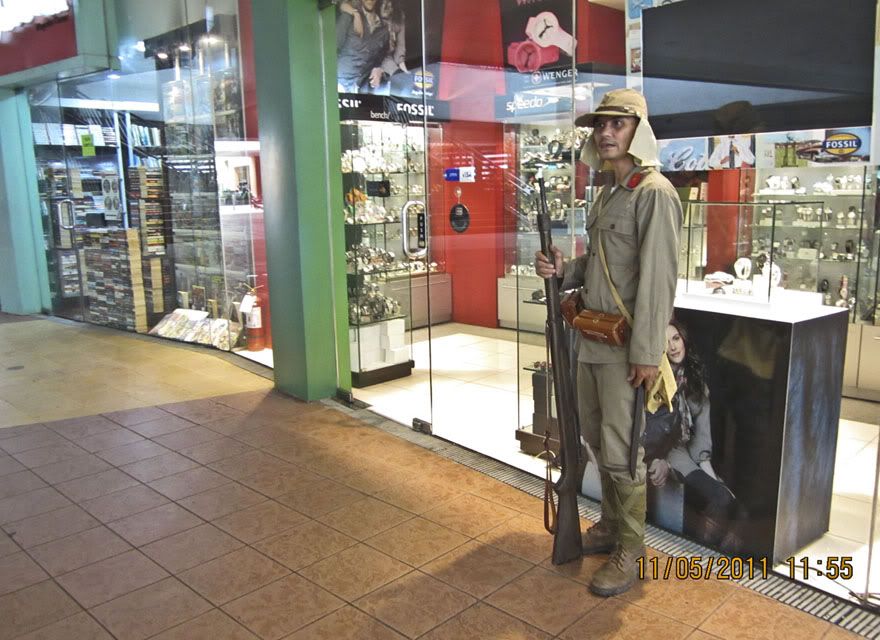 jpavi rose to legionnaire's challenge!!!! brave, brave man: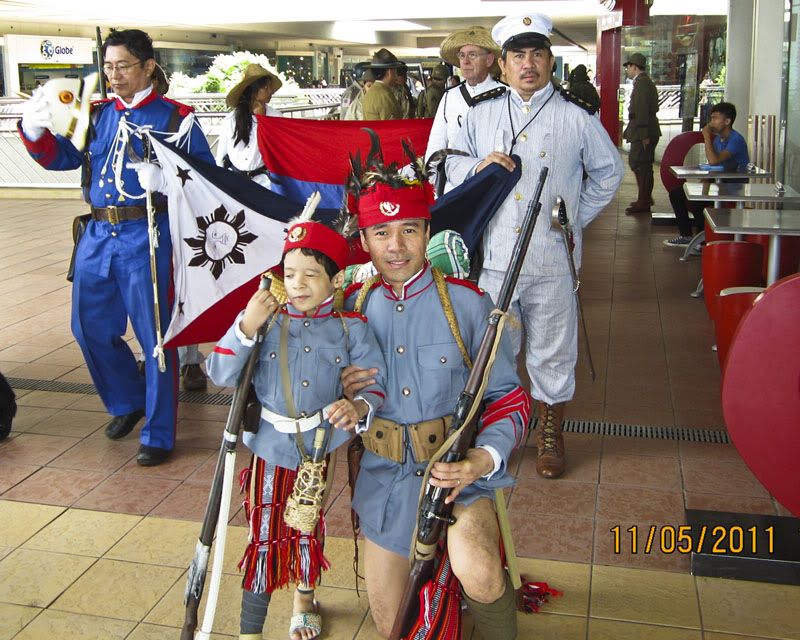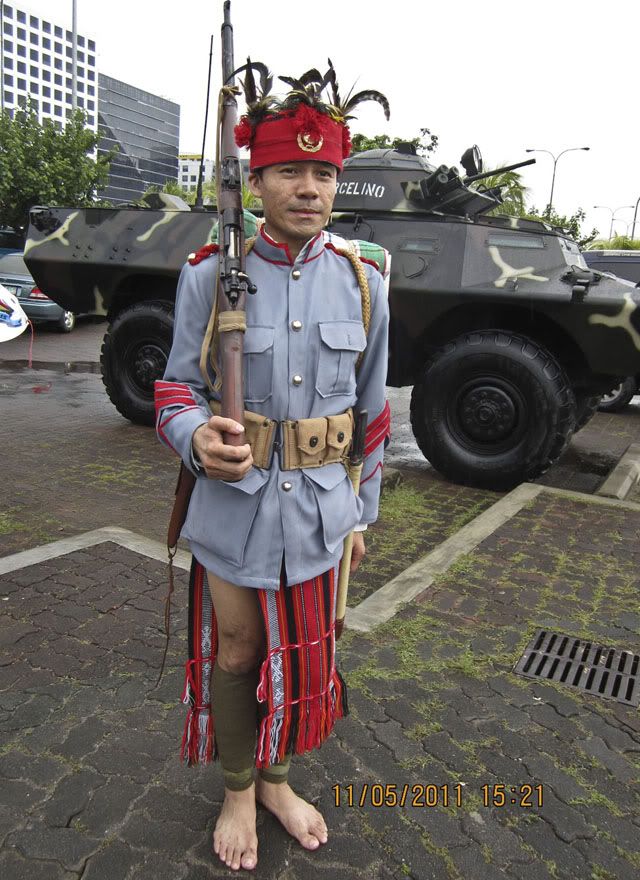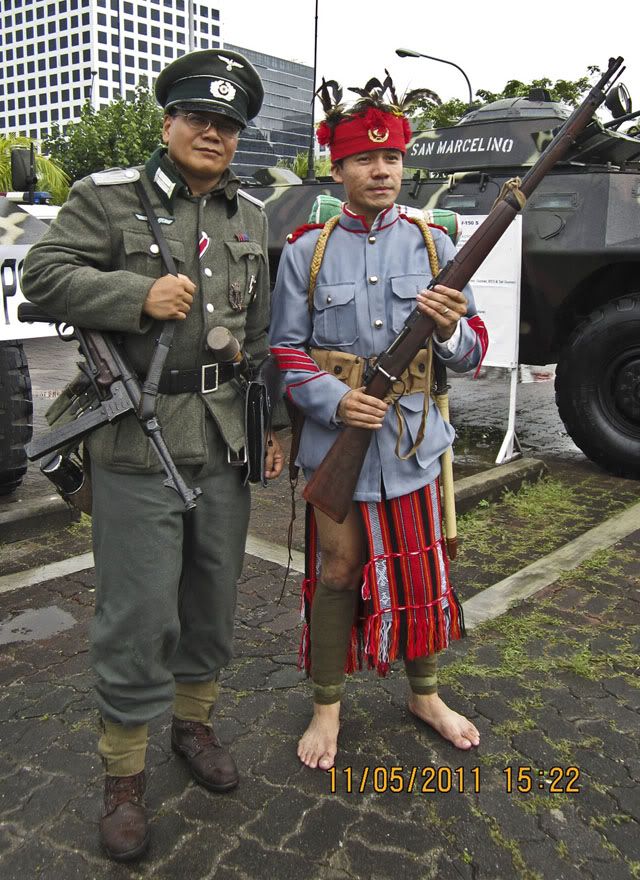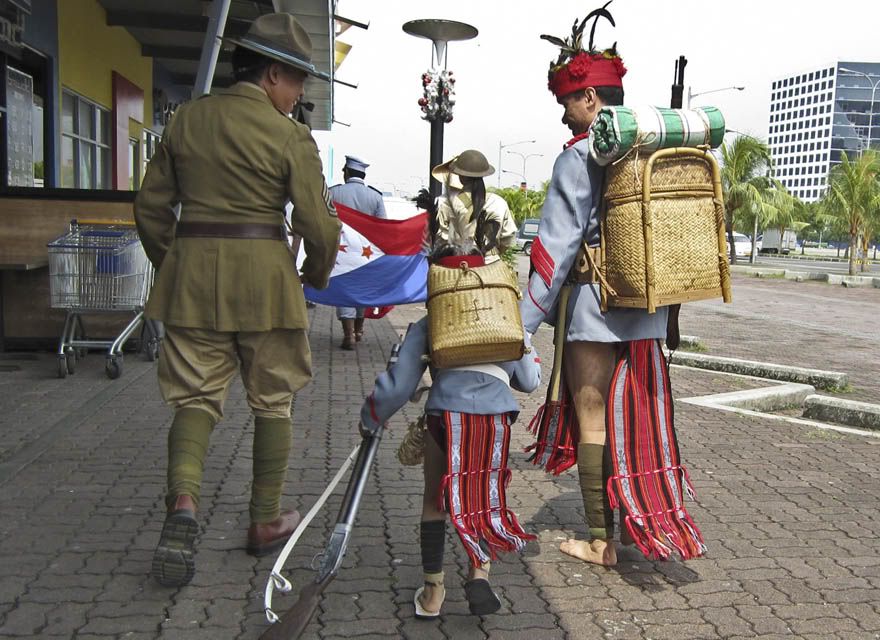 Ka Larry ronquillo was far braver, however: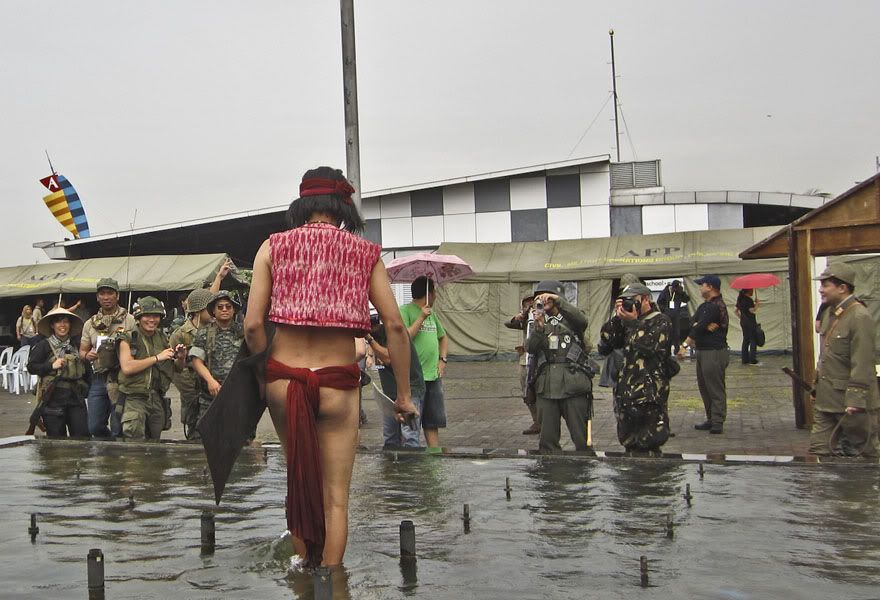 Just look at the delight in the reenactors faces!
Here he is posing with his secret weapon, the anti magellan grenade launcher. (that's real steel folks!)
Larry made the mistake of adjusting his bahag in front of some mirrored glass. It turned out to be the dining area of Viking buffet. I'm sure some guests wanted to run out to stick bills in his g- string.
The axis in the mall:
A visiting japanese dignitary: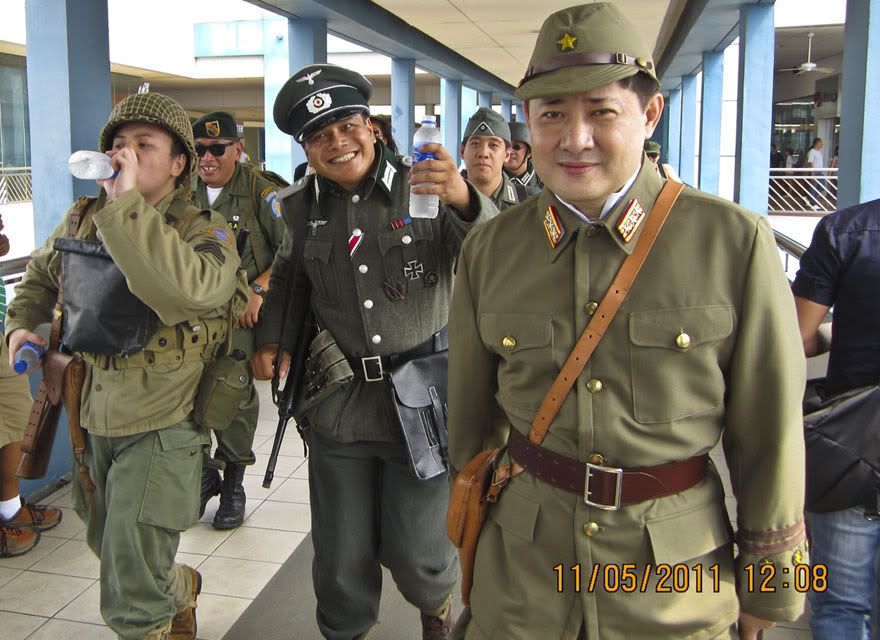 Viva la revoluccion!!!!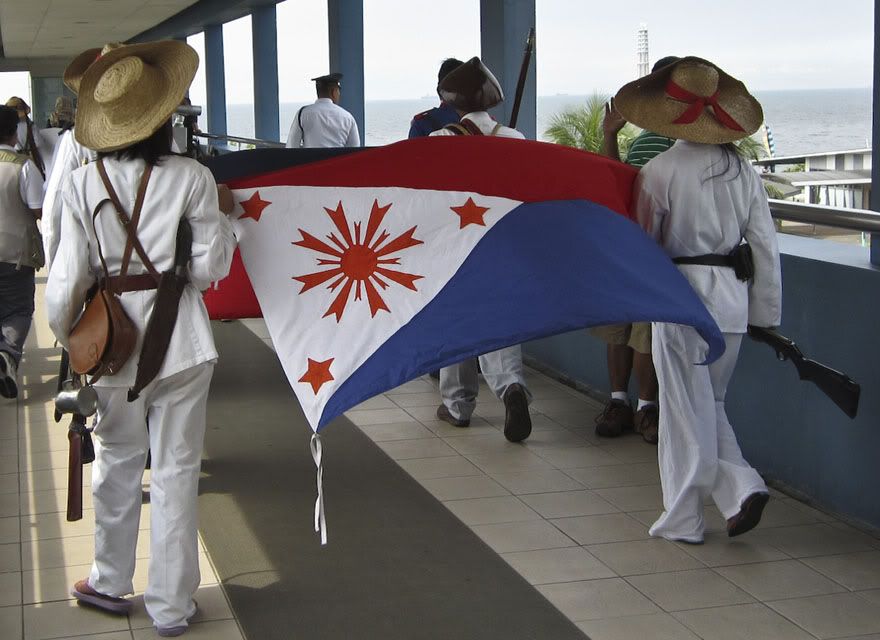 The muggy weather didn't really agree with our authentic wool uniforms but we managed to bear it with a little help from our sponsors: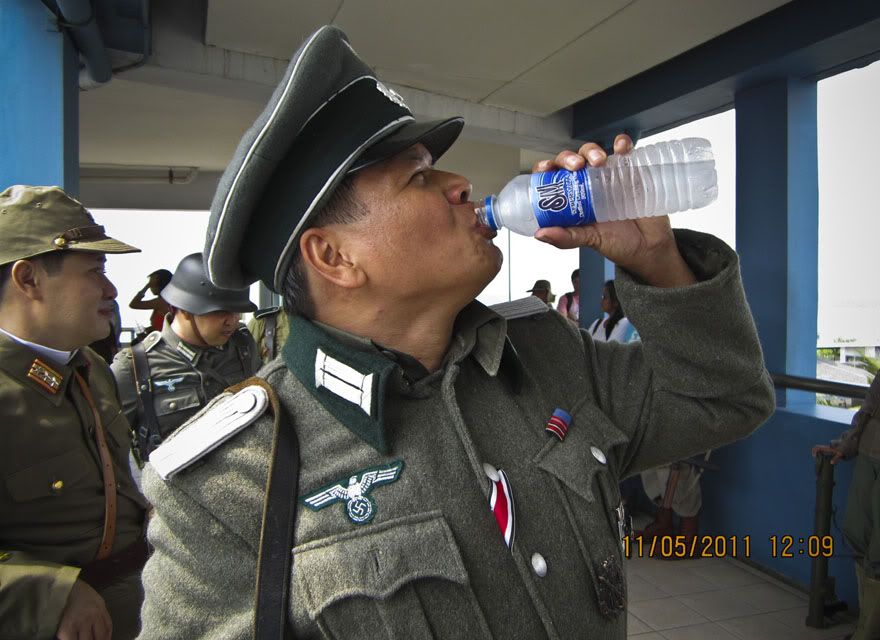 Note strategic corporate logo placement.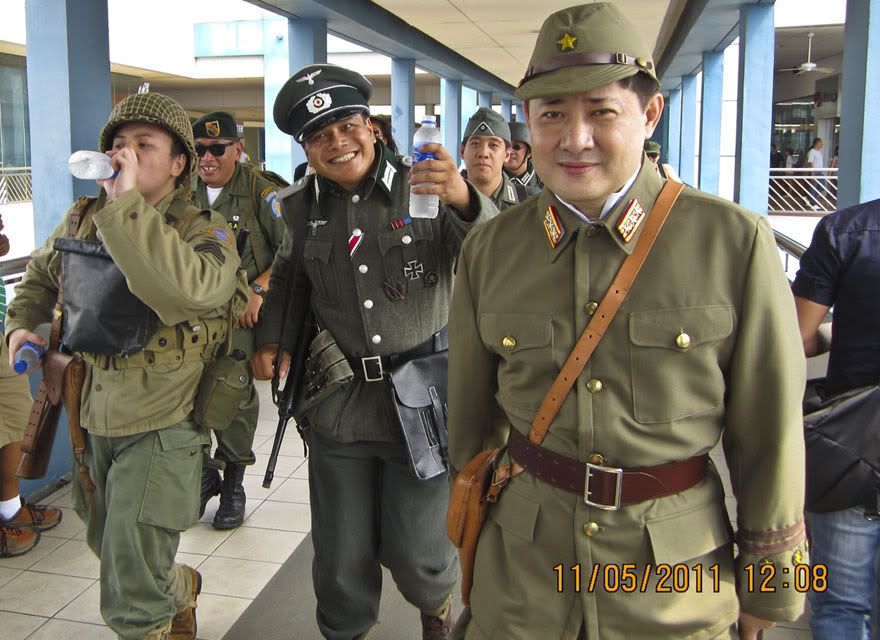 A more appropriate impression: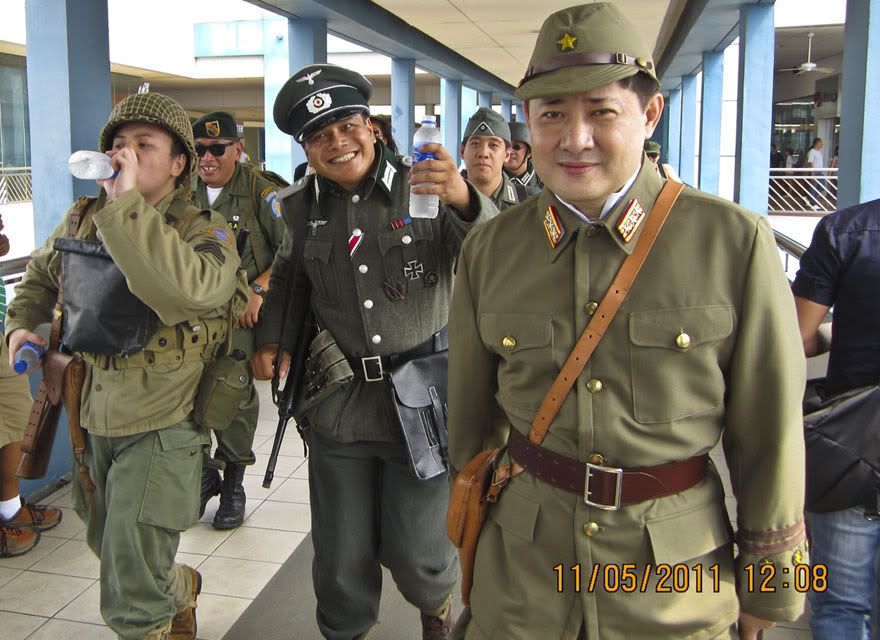 Someone wanted to hold pjavi's gun: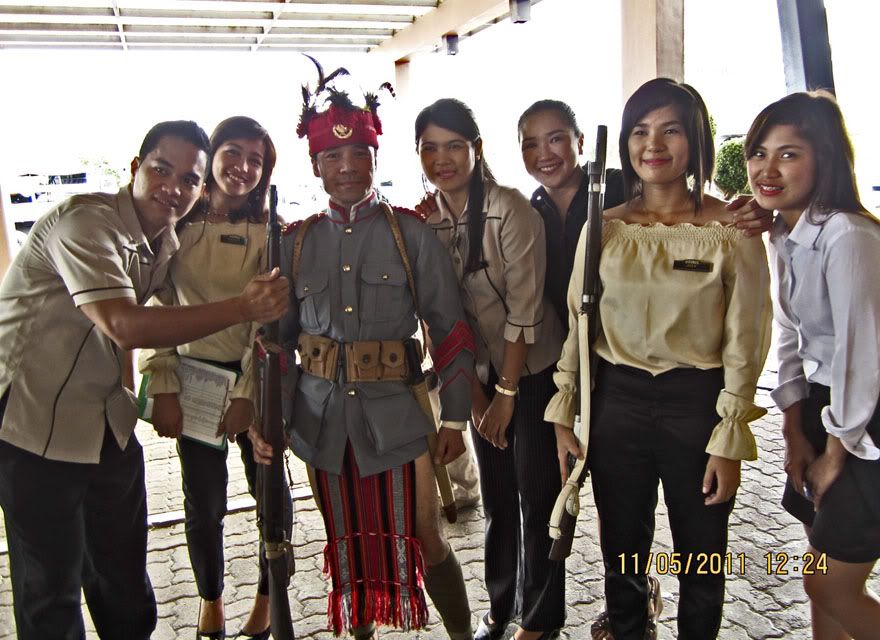 Some R&R before heading off to the 'nam: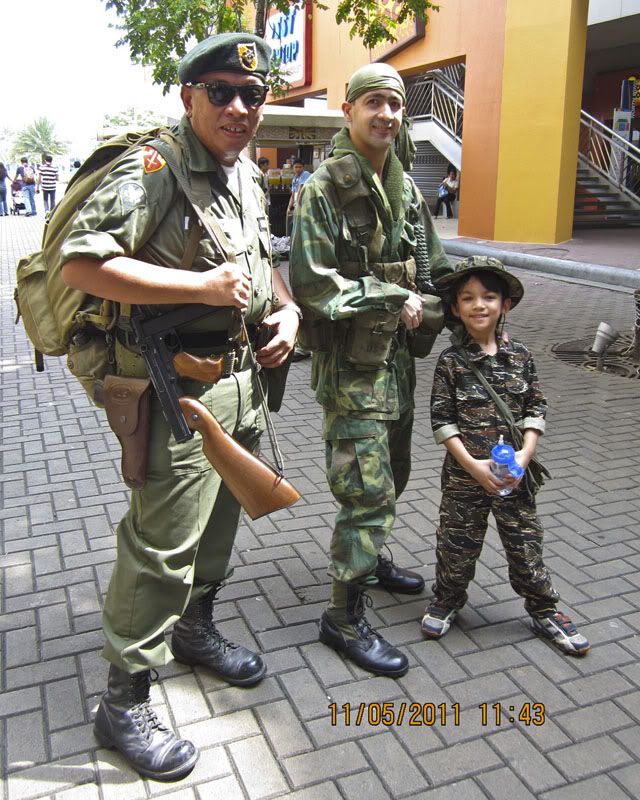 jnmodeler got sentimental and turned into a Tamiya figure:
Heading back to hooters...i mean the exhibit area!
the guardia civil was present as well: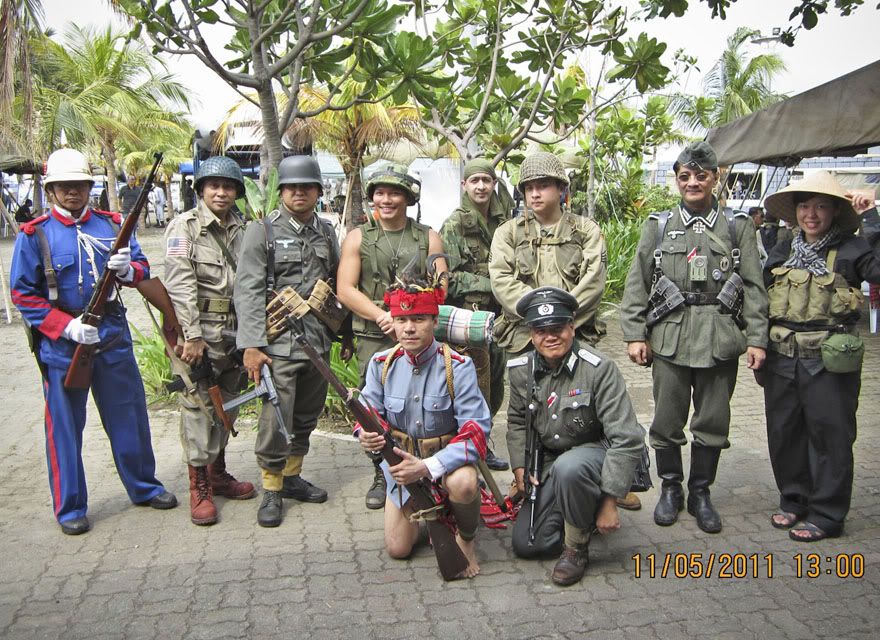 as was the CRSAFP: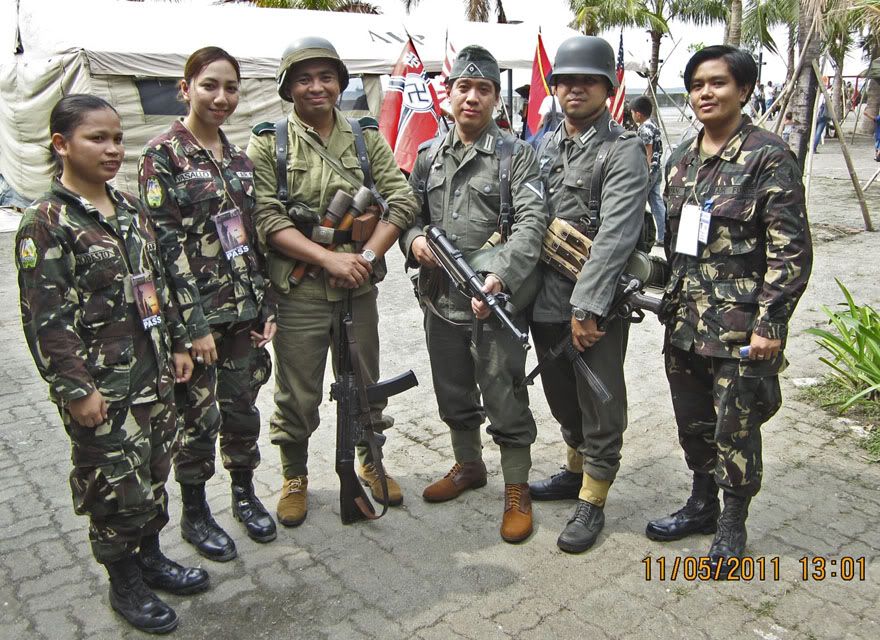 After a short break, we headed to the atlantik wall to await the invasion:
As usual, the allies were victorious! dogmeat atop the "point du not-so hoc"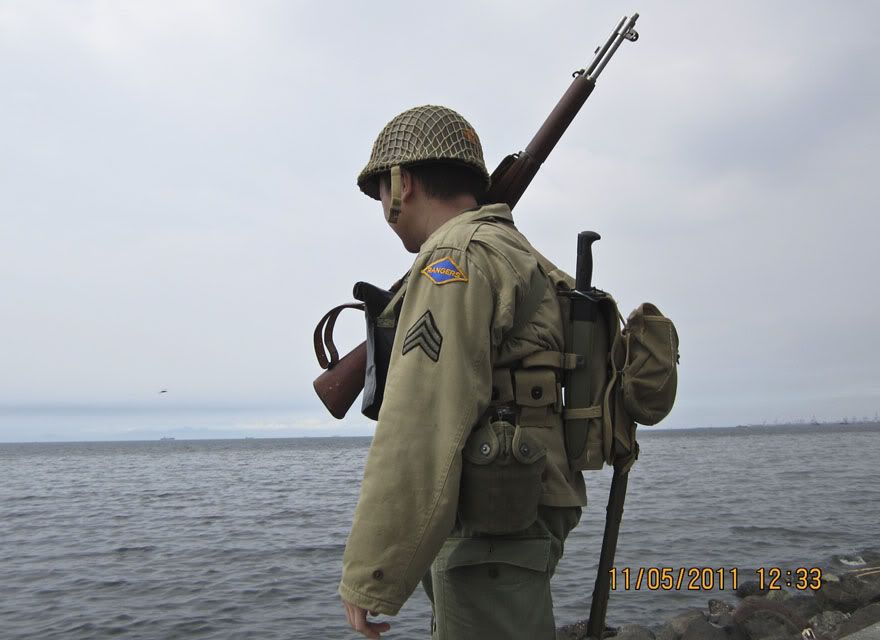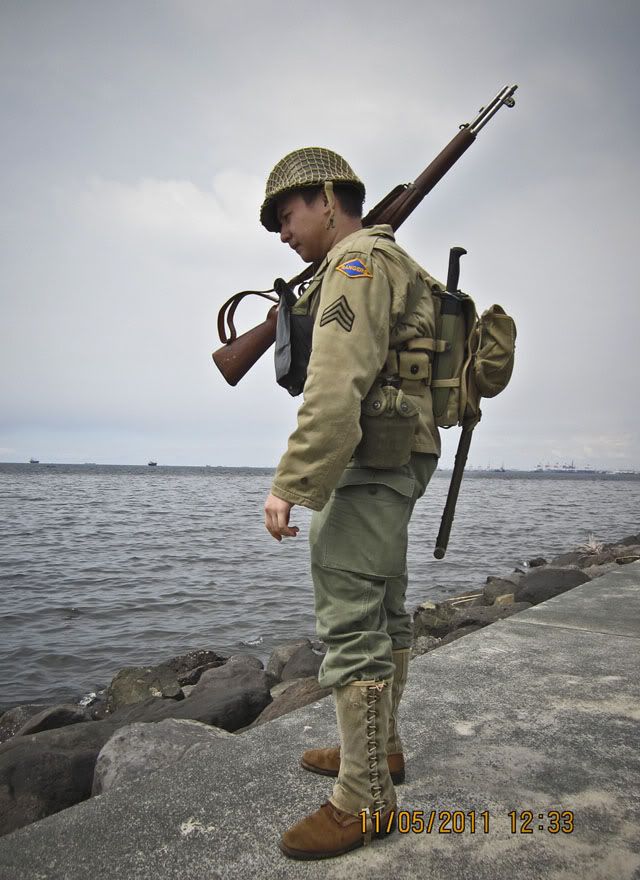 Dan's unique version of Harajuku Philippines: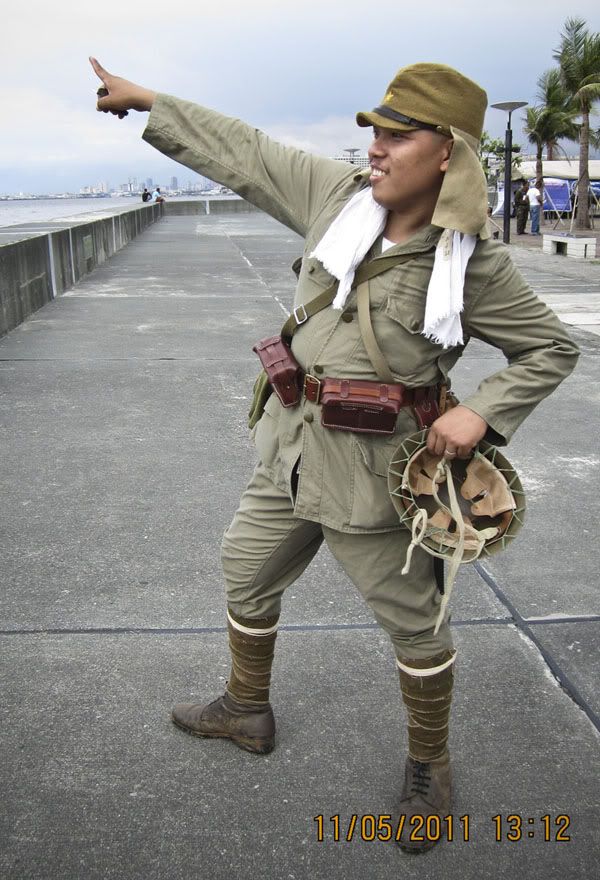 He wanted to take home some mementos: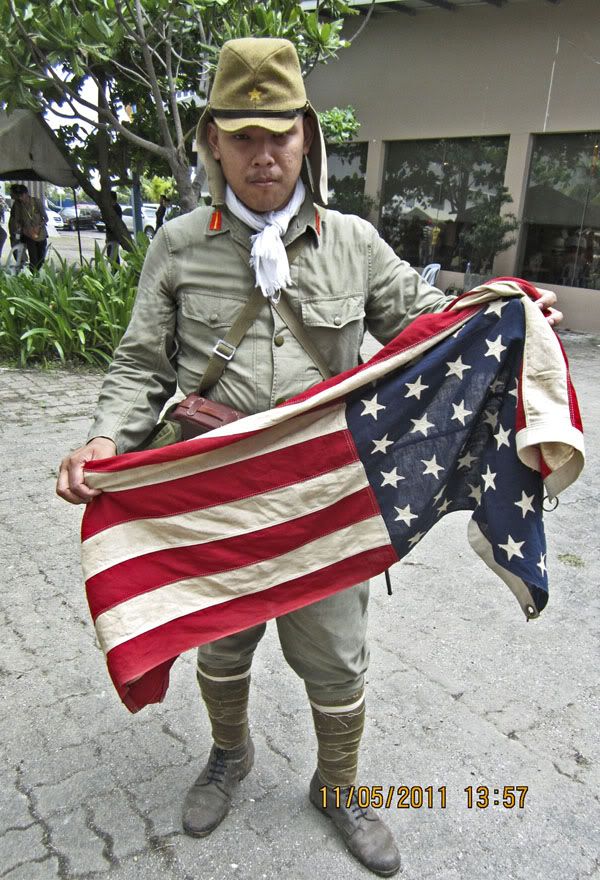 Dan was so authentic he was addressed by some elderly hapanese tourists in nippongo. They even asked for a photo!
the command staff secretly retired for a meeting at an undisclosed location: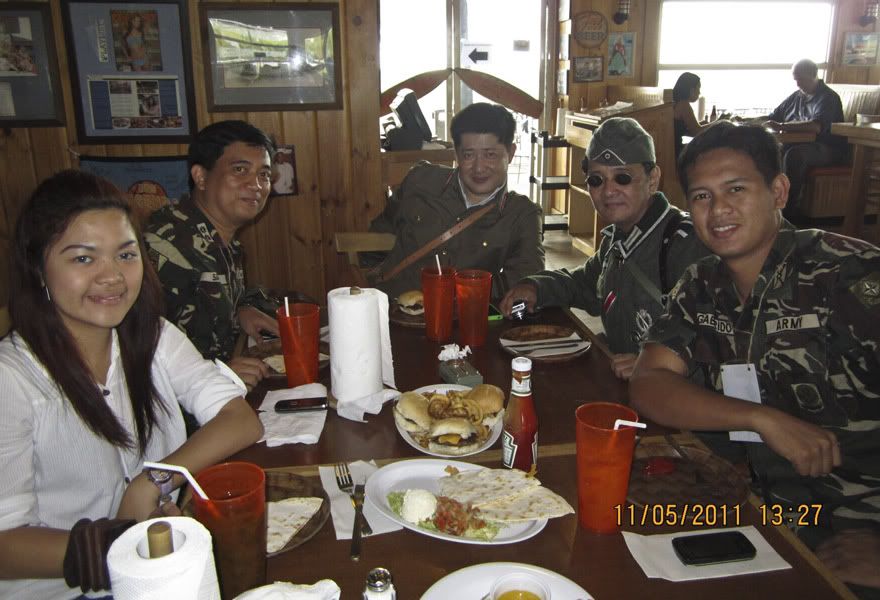 and took some souvenir photos while they were at it:
Dogmeat with the NAVSOG elite.
Some of the assembled reenactors: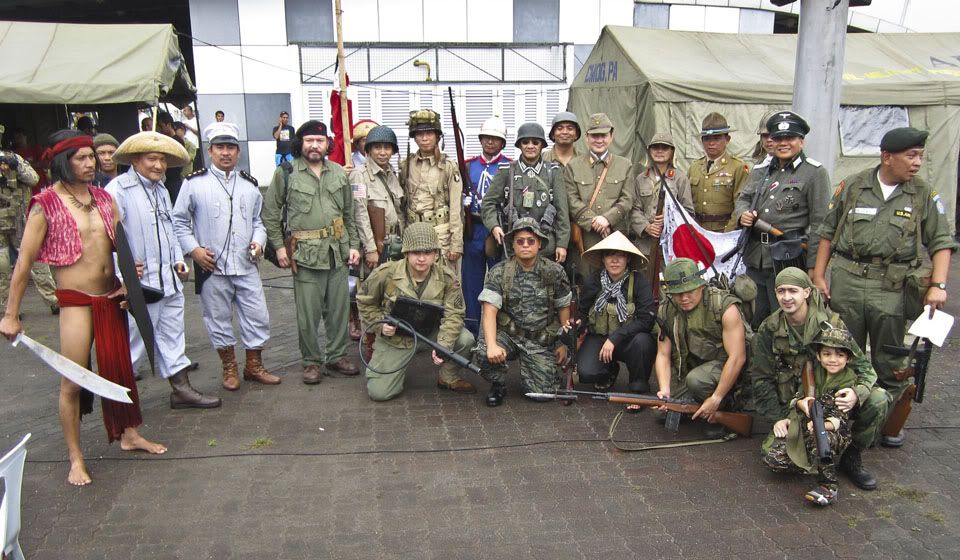 ....WAIT! is that che guevarra? I thought rebel outfits were banned!!!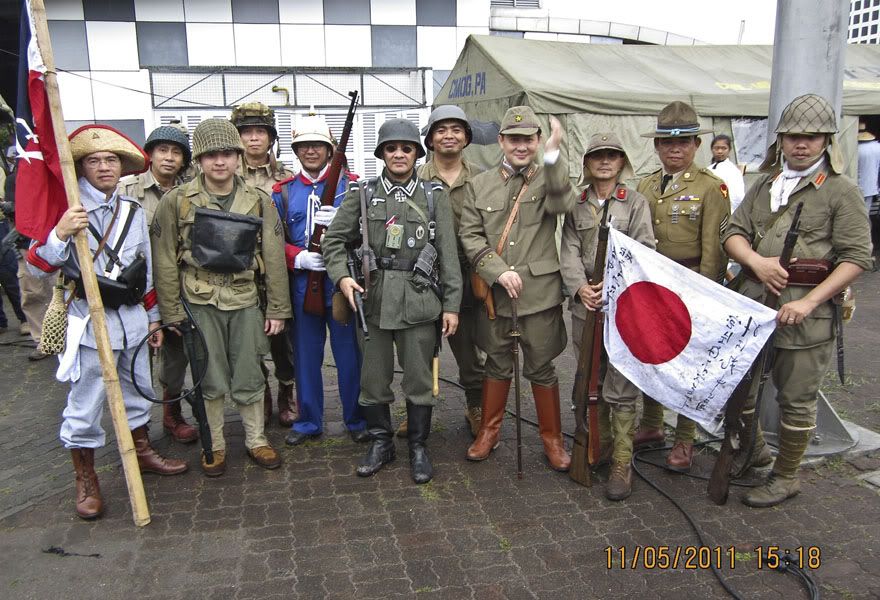 that's all folks, from your gruppe kriegsberichter, Albrecht!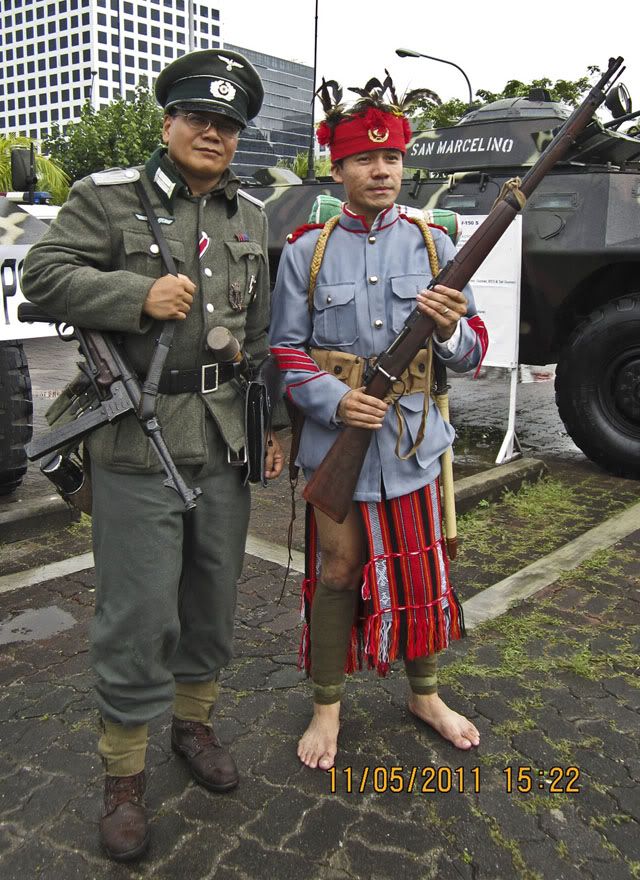 Do post more pics if you've got 'em!
Oh and by the way! they finally switched military cosplayer to reenactor! huzzah!