Post by VeeVee on Aug 5, 2009 8:36:45 GMT -5
A tribute to one of the Philippines' most honest and principled presidents... May she rest in peace.
I was watching it last night on TFC channel starting with a beautiful mass at the Manila Cathedral. This morning it was still on going but toward the tail-end before the burial. People stood in the streets to see the procession all day even in heavy downpours.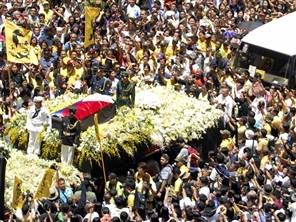 --------------------
newsinfo.inquirer.net/topstories/topstories/view/20090805-218859/Cory-laid-to-rest-beside-Ninoy
Cory laid to rest beside Ninoy
By Maila Ager, Abigail Kwok, Lira Dalangin-Fernandez
INQUIRER.net
First Posted 11:28:00 08/05/2009
MANILA, Philippines – (UPDATE 10) In death, former President Corazon Aquino again united the nation as an adoring and grateful people laid her to rest on Wednesday evening.
People rich and poor, staunch allies and worst critics came together with ordinary folk to bring the woman in yellow to her final resting place, a scene that some said was reminiscent of the burial of her late husband, former Senator Benigno "Ninoy" Aquino Jr. in 1983.
The leader of the 1986 People Power uprising that restored democracy in the country was buried in a simple tomb beside that of her husband's. The family mausoleum was elegant in its simplicity. It was painted in pure white, including its four arches that was adorned with yellow ribbons.
Atop the tombs of Cory and Ninoy were stargazers, chrysanthemums and orchids that gave it hues of yellow and green.
Tents for guests were installed near the mausoleum. Some of the personalities who came early in the memorial park were Senator Manuel Roxas II and Jamby Madrigal, Representatives Lorenzo Tañada III, Roilo Golez and Eduardo Zialcita, former Senator Ernesto Maceda, former Finance Secretary Cesar Purisima, former Socioeconomic Planning chief Solita Monsod, Makati Mayor Jejomar Binay, former Commission on Elections chairman Benjamin Abalos, Education Secretary Jesli Lapus, and East Timor President Jose Ramos Horta.
The democracy icon's funeral procession inched its way from the Manila Cathedral for roughly eight hours, slowed down by tens of thousands who lined up on the streets and braved occasional heavy rains to bid her farewell.
She was given full military honors before the actual burial.
Initial police estimates placed the crowds that gathered along the funeral procession's route at 150,000.
"The procession brings back memories of 1983. Like 1983, the people lined the procession route to show their appreciation, gratitude and love to Tita Cory who served the country with her heart. Tita Cory loved the country the way she loved Ninoy --- selflessly," Tañada said.
A sea of yellow welcomed the convoy as it entered the Sucat district in Parañaque from the South Luzon Expressway. Supporters wore yellow, Mrs. Aquino's trademark color. They also flashed the "laban [fight]" hand sign and waved yellow balloons.
Crowds along the procession route were also in yellow and flashed the hand sign that symbolized defiance against the Marcos dictatorship in the 1980s.
Aquino died last Saturday due to complications from colon cancer, which she fought for over a year. She was 76.
Mrs. Aquino's wooden casket, draped with the Philippine flag and surrounded by a blanket of yellow flowers, was placed on top of a truck. Four honor guards from the military stood by it throughout the eight-hour procession.
Some 100,000 lined up along Roxas Boulevard from Intramuros to Quirino Avenue, said Superintendent Rommel Miranda, metropolitan police spokesman.
Another 30,000 gathered from Osmeña Highway to Buendia Avenue, 10,000 along the Sucat interchange, and 10,000 at the vicinity of the Manila Memorial Park.
A human chain was formed to contain the crowd and allow the convoy to pass through the stretch of Roxas Boulevard.
Among the mourners who lined up the streets were students and nuns of St Paul College, members of the Chinese-Filipino community, vendors, and ordinary citizens some of them as young as four years old.
The mourners were flashing a "Laban" (fight) sign and chanting "Cory! Cory!"
Some were carrying yellow flowers and laminated photos of the former leader.
Aquino's only son, Senator Benigno "Ninoy" Aquino III and his relatives were onboard a vehicle next to the truck that was carrying their mother's remains.
The senator and his nephew, Jiggy Aquino-Cruz, flashed the "laban" sign and said "thank you" to the crowd from the vehicle.
"Maraming salamat sa inyong lahat. Siguradong nakatingin ang nanay at tatay ko mula sa itaas. Sinisigaw niyo na ituloy ang laban. Sa tulong niyo magagawa natin yon. [Thank you to all of you. I'm sure my mother and father are watching from up above. You want to continue the fight. With your help, we can do that]," the senator said.
"Nasa panahon pa kami ng pagdadalamhati pero sa mga susunod na araw itutuloy natin ang laban. [We are still in mourning, but in the coming days, we will continue the fight]," he said.
Members of the August 21 Movement (Atom) sang the 1986 People Power anthem "Bayan Ko" and "Pilipinas Kong Mahal" during the procession as onlookers sang along.
Mourners stood still in the street even as heavy rains started to pour along Osmeña Highway.
A pregnant woman sharing an umbrella with her companion and a four-month-old baby carried by his father were seen on the street, waiting to see the truck carrying Aquino's body.
Eden Raz, 51, said she joined the funeral march in the hope that Mrs. Aquino's death would make a difference to the country.
She said had been at the Manila Cathedral church since Monday to visit the former president's wake but did not endure the long hours waiting for her turn to see Mrs. Aquino.
"Naibsan naman yung paghihirap namin nung makita namin si Kris at nag thank you siya sa amin. [Our suffering was lessened when we saw Kris, who said thank you to us]," she said, referring to the former leader's youngest daughter.
Raz was among the hundreds of people who walked on foot to join the funeral procession from downtown Manila to Parañaque City.
Overhead, helicopters threw petals of red and white roses. The sky was overcast but the rain had stopped as Mrs. Aquino's casket was carried out of the Manila Cathedral at 11 a.m.
The streets of Old Manila were painted yellow as people said farewell to Aquino, 76, who died of cancer.
Outside, tens of thousands of supporters are waiting for Aquino's hearse to pass.
Upon reaching the corner of Kalaw and Roxas Boulevard, militant groups led by Bagong Alyansang Makabayan greeted the hearse to pay their last respects.
People clad in yellow cheered and waved goodbye as yellow balloons were released in the air.
Bayan Secretary General Renato Reyes Jr. said, "It is our hope that the tremendous display of national solidarity of the past few days will carry on even after today. May Mrs. Aquino's life continue to inspire our people to fight tyranny and abuse whenever and wherever these are present."
A helicopter hovered above and showered confetti over the crowd that gathered to pay their last respects.
President Gloria Macapagal-Arroyo, whom Aquino had turned against over accusations of corruption in the Arroyo administration, made a brief pre-dawn visit to the cathedral to pay her last respects.
She shook hands with the former leader's son, opposition Senator Benigno Aquino, and prayed briefly over the casket.
Arroyo cut short a visit to the United States following Aquino's death on Saturday and was met by Aquino relatives.
But she was pointedly excluded from the invitation-only mass that was also attended by two past presidents, Fidel Ramos and Joseph Estrada, and foreign diplomats.
The family had rejected Arroyo's offer to hold a state funeral, reflecting the icy relationship between the only two Filipino women to have led the fractious and impoverished Southeast Asian nation of 90 million people.
Vice President Noli de Castro was the lone senior government representative at the mass, which was broadcast live on television and on giant monitors outside the church.
Two children of Marcos paid their respects on Tuesday and the late dictator's flamboyant wife Imelda said a reconciliation between the families could prove a "miracle for the Philippines."
East Timor President and Nobel Prize laureate Jose Ramos-Horta also visited the cathedral early Wednesday.
In a statement marking the funeral, Australian Foreign Minister Stephen Smith said Aquino's "courage was vital to returning her country to constitutional democracy."
With reports from Alcuin Papa and Tina G. Santos, Philippine Daily Inquirer; Agence France-Presse