Post by legionnaire on Jul 25, 2009 3:23:55 GMT -5
July 3, 2009, AFP Museum, Camp Aguinaldo, Manila
Finally got to try and photograph this great diorama of the PA's 1st Div. (Tabak) parade in review at Camp Murphy diorama.
Soldiers from the Philippine Army's 1st Regular Division march past their headquarters
(now headquarters service command building) at Camp Murphy (Now Camp Aguinaldo).
After completing cross-country hike form Marikina Valley in 1939.
A Philippine Army Air Corp Stearman PT aircraft based in adjacent Zablan Field and lone Renault WW I vintage tank
provided the burgeoning Commonwealth Army with some of the rudimentary equipment and training needed
in building a citizen-based defense and Military force preparatory to the granting of independence by the United States in 1945.
Based on the B&W docu film, note on the extreme right Div flag bearer,
the Div. colors were based on the Commonwealth flag with the coat of Arms of the 1st Div.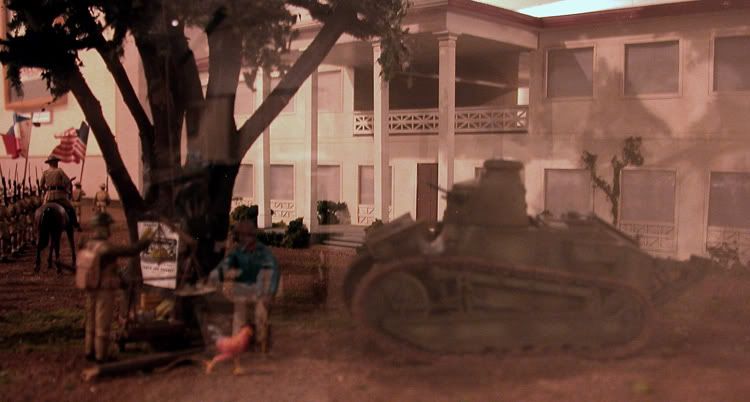 One and only PA Renault WWI Tank
Filipino troops and guerrilla fighters surround and battle trapped Japanese defending town plaza.
As you can see the walls of the town plaza have been blown open for the Kamikazi Carabao to run in and towards the trapped Japanese.
Kamikaze Carabao Tactic used by the PA was to pack the poor unknowing Carabao with explosives,
tie straw hay to it's tail, light it up so as to make the animal run away from it's burning tail
and head towards the Japanese to their doom.

Japanese mg crew trying desperately to machine gun down rampaging Carabao headed towards them.
Tragic used of the PS symbol.

Philip